The shoes that started it all! Essen, Germany
On a trip to Germany, I had misjudged the weather forecast and was unprepared for the cold, so I needed to purchase a jacket. That was fun, but even more fun was the shoe store across the mall aisle. I went in and found an adorable pair of pumps - brown suede with the cutest side bows and small heels. I got them...in currency that was foreign to me and a size I couldn't relate to. I love those shoes! Every time I wear them, I get comments and people tell me how much they like them...like "Where did you get those shoes?" .....and then I tell the story of shopping at a non-tourist mall in Germany with my dear friend, Sigrid. 
Boston Boots!
One day it occurred to me that they were a walking souvenir.....they looked like shoes here, but were different enough...just a touch of a European style not found in my home town. The perfect souvenir. And, that day I decided that walking souvenirs were a good thing. They might actually be a bit more practical of a souvenir than a key chain fob or a magnet. For one thing, you don't get shoes where they sell the magnets and city-named candy bars, so you get to go where the locals go...and that is always an experience (so is a grocery store that you are not used to - local stores in small towns or small neighborhoods have great personality!). And, feet stay the same size no matter how much food you eat while traveling! Buying shoes is like buying art, but practical. Like a postcard on my feet!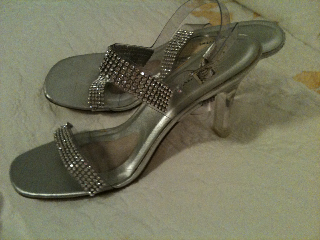 Washington, DC style glamour!
So, from that day on, when I travel for business or pleasure, in addition to scouting out the quilt shop (because fat quarters make great souvenirs, too.), I try to find the shoe store where the locals shop. I almost always have a good story to tell, and if not, I at least have a great pair of shoes! Do you think this might all be just a glorified way to get another pair of shoes...hmmm?
Smiles,
Mattie